Join The Heat Family
Want to join London Heat Cheerleading? Here's how!
1. Come on out to our tryouts! Tryouts are held in May of each year. If you missed tryouts and are still interested in cheering for London Heat, please contact us.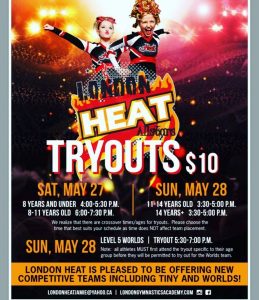 Tryout Package 2017-2018 (Updated)

2. Get placed on a team! Based on your evaluation and past experience, we will place you on a team that is the best fit for you.
3. Register for the season! When you attend tryouts, you will receive a tryout information package which includes lots of program information (teams, practice schedules, competition schedules, yearly investment, etc…) and registration instructions.